Chiropractor Lee Blackwood D.C.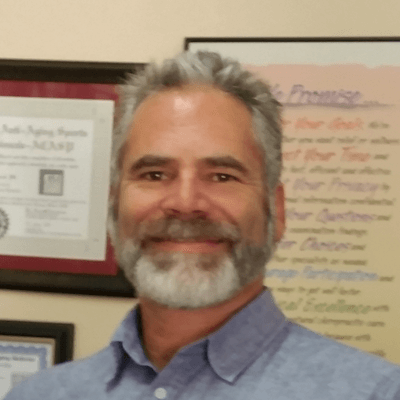 Dr. Lee Blackwood grew up in a small town in southern CA. Plagued by food allergies and being the smallest kid around, he started in Martial arts at a young age. It was there that he came to understand what he ate influenced his performance greatly. At 17 he joined the U.S. Air Force; during is time in the AF he continued his martial arts training and became an avid powerlifter. After 6 years in the Air Force, faced with big choices, like what the heck am I going to do with my life?
He continued his passion for martial arts and weight training. Chiropractic became a mainstay in his routine. Chiropractic helped with recovery from many, many injuries, and facilitated advancement in the sports. His great grandfather was a chiropractor around 1910 and his oldest brother was a practicing chiropractor in the bay area. His choice was clear.
Dr. Blackwood graduated from Life Chiropractic College West in the bay area of California. He started his practice in February 1994. Setting up shop in San Jose California until 2000 when he came home to Colorado. Colorado Springs where he put down roots, his second son was born, and Blackwood Health Center of Colorado Springs was off and running. Over the next 20 years Dr. Blackwood did post-graduate work in Acupuncture, Naturopathic medicine, and became Board Certified by the American College of Anti-Aging Medicine in both Anti-Aging Health Practioner and Sports Medicine.
Dr. Blackwood and his family live in Black Forest, Co. His wife is an Equine Veterinarian that specializes in Chiropractic, Acupuncture, and Dentistry for Horses only. He and his wife are avid equestrians, that enjoy competitive trail competitions, Endurance racing, trail riding, and just about any other activity that involves horses.
Dr. Blackwood has a passion to heal people reach and maintain the best health possible. It can be a difficult road for some, but he will not give up.
Monday
7:00am - 12:00pm

---
Tuesday
7:00am - 10:00am
2:30pm - 6:00pm
---
Wednesday
7:00am - 12:00pm
---
Thursday
7:00am - 10:00am
2:30pm - 6:00pm
---
Friday
7:00am - 12:00pm
---
Saturday
Closed